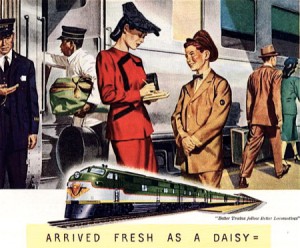 This journal is all about my 40-hour train trip from New York's Penn Station to Chicago's Union Station and on to Denver on February 3-5, 2013. I decided to visit my oldest childhood friend and her new baby in Denver, and I figured it would be fun to go by Amtrak. I wanted the experience of eating and sleeping on a train; I wanted to really settle in and see what it would be like. The lady in this vintage advertisement (at right) arrived at her destination "fresh as a daisy," and you can't argue with that. She seems to be saying, "Thank you so much, helpful little boy." And he appears to be about twelve, so he's clearly old enough to earn his keep.
The name "Born on a Train" comes from the very great Magnetic Fields song. I have to confess that I was hardly born on a train, but I am a bit obsessed with old-fashioned train travel. I also love old-school ocean liners a la Gentlemen Prefer Blondes (1953), but I can't really afford the QEII at this point in my life. (Alas.) Really, I just watch too many old movies, and so my love of trains is colored by my nostalgic fantasies (and they really are fantasies) and mediated by Hollywood images.
As I contemplated the necessary gap between my idealized vision of train travel and the inevitable reality, it occurred to me that I might make this trip into a project. What kind of project? – Well, an experiment in the limits of nostalgia and the viability of anachronism.
I knew that Amtrak would not be luxurious. Trains have changed since the Golden Age of train travel. The glamour is gone — and of course for many people, it never existed at all. But a (less grouchy than usual) Hamlet said that, "…there's nothing either good or bad, but thinking makes it so," and Milton posited that, "The mind is its own place, and in itself can make a Heaven of Hell, a Hell of Heaven." Those guys make you think. And I hate to disagree with either of them, so I booked my ticket and geared up for my authentic and artificial experience.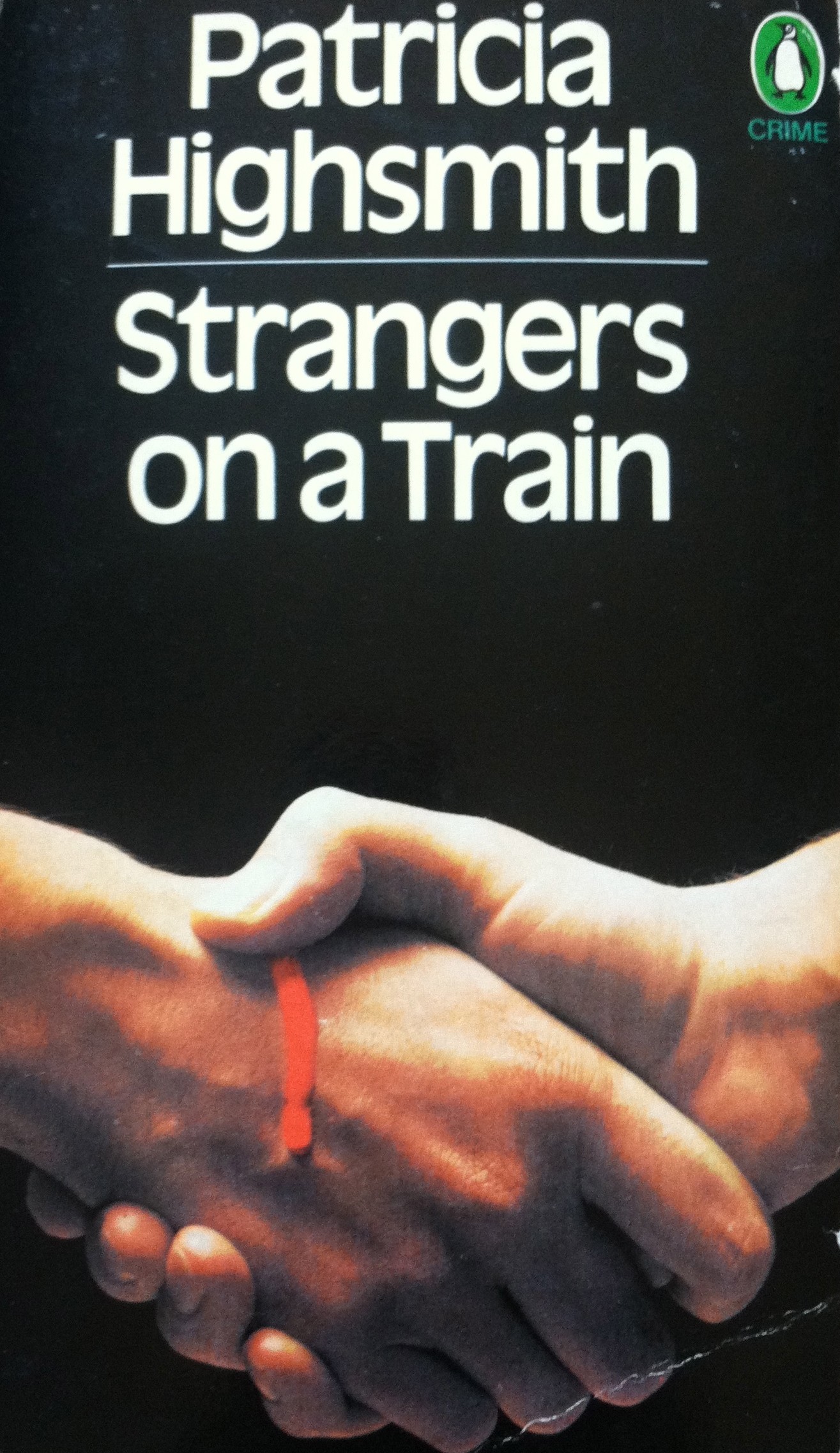 In the 1976 film Silver Streak, book publisher George Caldwell (Gene Wilder) decides to take a train from Los Angeles to Chicago because he "just wants to be bored." This was not exactly my approach. During the weeks leading up to my trip on the Lake Shore Limited (New York to Chicago) and the California Zephyr (Chicago to Denver), I read several books and watched a ton of movies about trains and train travel. I found a cool vintage edition of Patricia Highsmith's 1950 Strangers on a Train and Agatha Christie's 1957 4.50 from Paddington, which is about – wait for it – a murder on a train (but in this case, a murder on a train on the parallel track). I figured that my experience would already be informed by some of my favorite movies – Some Like It Hot (1959), Brief Encounter (1945) – so I decided to brush up on some other old classics that I hadn't seen in a while such as The Great Train Robbery (1903) and The General (1926). As I tend to see the world as mediated by art, I thought I might as well go all in. This trip was an opportunity to explore a sense I've always had that things that are not real often feel much more real to me than the real.
I decided to dress for the trip. I've heard that Amtrak has a communal feel – you dine with strangers, etc. – so I imagined that I might get some interesting reactions to my appearance because, well, no one ever dresses to travel anymore. People might think that I was crazy. Or perhaps they would be amused. But I was sure about one thing: one needs a break from the normal. I wanted to take a page out of the dandy's approach to life and attempt a thorough and complete rejection of the ordinary. So this was not an ironic project, in the hipster parlance of our times. It was actually quite sincere.
And I promise that I was not trying to find myself. I really hate it when people try to do that. The Darjeeling Limited (2007) did a reasonably good job sending up that approach to train travel, although I confess that I still love the train scenes in that film. That's the thing about Wes Anderson – even his satire is too beautiful. You can't critique it; you just want in. People do like to take metaphysical journeys on trains. In Before Sunrise (1995), which I remember watching in high school, Ethan Hawke is trying to make sense of his bourgeois American self. "I got one of those Eurail passes," he explains to Julie Delpy. The movie opens with a shot of the train tracks as they whizz by below, but it's clear that Hawke ain't going nowhere. Enter French grad student! Grad students always make everything better. But this is all to say that I promise that I am not looking for the meaning of life. There will be no eating, praying, or loving in this blog. Well, I do eat, and I do love people, but not in the middle-aged American white woman kind of way.
I hope that certain aspects of this blog will prove useful if you are contemplating a long-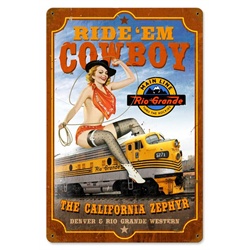 haul trip on Amtrak. But one doesn't want to be too wedded to utility, and all the practical information is available on their web site. What you'll find here is not so much useful information as, well, musings. The trip did in fact turn out to be downright civilized, as well as a hell of a lot of fun. (Almost as much fun as the garter-and-bandana-clad lady is having on the train at right. Ride 'em, cowboy.) In fact, I'd love to make the trip again and go all the way to the final stop in Emeryville, California. It was a shame to miss the Rockies. The California Zephyr climbs 4,000 feet in the fifty miles after Denver, cutting through the mountains, and the route has changed very little since ye olde times. One of the train conductors stopped by to look over the map in my 1950s California Zephyr brochure, and he said that the only difference in the route today is after Winnemucca. Now, the train dips down to Reno and across the Donner Pass and on to Sacramento, which is my hometown (as Bruce Springsteen says). Maybe I will make the whole trip next summer. I'd like to see the country in another season.