Clothing played a major role in my nostalgic, pseudo-performance art enterprise. Essentially, I decided to dress like the ladies in my 1950s (or early 60s?) California Zephyr brochure. I went with dresses, hats, brooches (the most retrograde of jewelry), hose, relatively comfortable heels, and red nail polish and lipstick. I promise that I've read The Feminine Mystique — several times, actually. The idea was to be performative. The fifties may have had some, um, issues.
I packed two vintage-style wiggle dresses in different shades of green. I don't know why I was feeling so green. I think it's appropriate that the dresses were not actually vintage as my approach was as much about the ersatz as the real. It did make me feel quite civilized to be dressed up. I've always thought that clothing is a kind of armor, so I suppose in this case I was armed against reality. In general, I dress for work because it makes me feel more prepared to face the day. I feel lazy and useless in jeans. Not that I mind feeling lazy and useless, but hey, one doesn't want to feel that way all of the time.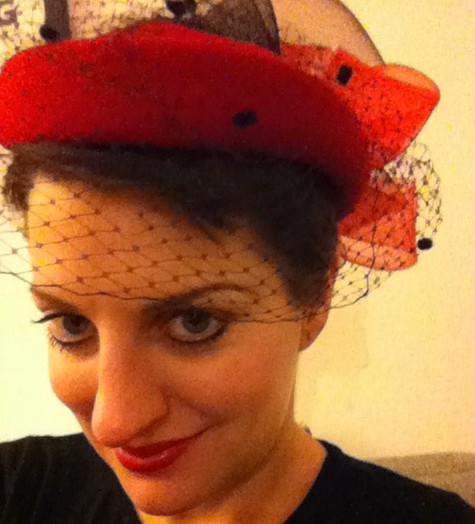 Hats were a big part of my look. Obviously, we need to bring back the hat, but I suspect this is not going to happen in the immediate future. Dare to dream. I had a nice blue-and-green, peacock-y feather one for the first leg of the trip and a lovely navy pillbox hat for the second (complete with fabulous netting). This red one at left is one of my favorites, but I didn't pack it because it took up too much room. I need a hat box! (Something to think about.) You can wear a hat the to Royal Wedding or to Royal Ascot, but that's about it. Such a shame. I always think of Audrey Hepburn's huge hat in the scene at the races in My Fair Lady (1956). I've never been a huge Audrey fan – she's a bit too delicate and anorexic for my taste, and I'm much more of a Katherine person – but that scene is stunningly composed. I found that my hats were a little hard to pin with my short hair, but I managed it. I may just keep wearing them when I get home. In New York, no one would notice or care.
Overall, the other ladies on the train loved the hats. They were an older crowd, so who knows? – Maybe they'd like to see the hat come back, too. They all smiled at me in a grandmotherly way and told me that they used to wear hats all the time.
Most of the people on the train just looked at me with a combination of approval and confusion. The Amtrak employees seemed to get a kick out of my outfits. I showed a few of them my vintage ads for the California Zephyr (by way of explanation of my appearance). Dressing up lent a certain ceremony to the experience. I wobbled a bit in my heels on the moving train, but that was just the kind of sacrifice I was prepared to make in the name of old-school style.
I did have one clothing malfunction, as they say in Hollywood. I had walked into the dining car just to check it out, and I ended up chatting with two of the waiters. As I was heading back to my cabin, they called after me. I turned around, and one of them said, "You seem like a nice person, so I'm just going to tell you that the back of your dress has split open." I started laughing and reached behind me, and, sure enough, I had a Sofia Vergara situation on my hands (but not quite on the same level). I have a working theory that most men will do just about anything for a woman in a dress, and if this dress rips open, well then you have friends for life. I went back to my cabin and changed and then came back for dinner, and the waiters and I chatted the whole time.
I'd like to have channeled Rita Hayworth, but it's hard to pack evening gowns for a train trip. I have a postcard of her in a frame on my bedside table. Talk about an armored woman. She looks so totally in control of herself, of her representation, of her everything. And let's face it: it used to be sexy to smoke. I know you're not supposed to say it, but there it is. Sexy smoking is definitely lost to time. Now it's just gross, and it makes your hair smell terrible. The people who were sucking down cigarettes at the train stops were not exactly on Hayworth's level. I like the way the smoke curls around her in this photograph.