The Lake Shore Limited:
I envisioned sashaying into the dining car, plopping down my bag,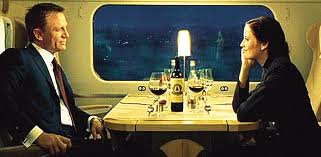 and telling Daniel Craig, "I'm the money," as the sleekly black-clad Eva Green does in Casino Royale (2006). This statement ushers in a scene that owes much to North by Northwest: a snappy back-and-forth between evenly-matched antagonists and would-be lovers. In both films, the women have the upper hand – Eva Marie Saint dupes and seduces Cary Grant with little effort, and Green's Vesper Lynd questions everything from the ethics of Bond's plan to thwart a terrorist to the cut of his suit and his class pretensions before she dashes out of the car, leaving him with a bemused smile on his face. Craig's Bond eats lamb and looks absurdly attractive, as he is wont to do, and the train rushes on through lush green mountains. There is, in fact, no high-speed train in Montenegro, but Casino Royale makes you wish that there were. And if you'd like to see Connery's approach to Bond on a train, From Russia with Love (1963) is the way to go.
But alas, I did not enter the dining car in this manner. Consider it a lost opportunity. Although my dinner was not quite so glamorous as Daniel Craig's, it was really quite solid. There were a number of options – steak, salmon, half a roasted chicken, vegetable pasta, ribs, etc. All very All-American. I opted for the roasted chicken with mashed potatoes and vegetables, a small side salad, and dinner rolls. I also ordered a half bottle of merlot. The vegetables were of the canned variety, but they were fine, and the chicken was really very good. Sometimes a big American dinner is just what you need, and it was nice to go back to my cabin with a full belly as I didn't pack any snacks.
Breakfast the next morning was also very good. I considered ordering the French toast, but I went for the scrambled eggs with potatoes, a biscuit, and bacon. The menu also featured a crab cake on a biscuit with a grilled tomato and hollandaise sauce, but that seemed a little too exciting to me. As I ate, I looked out onto the snowy Doctor Zhivago-esque landscape of Indiana and saw people getting into their trucks to go off to work. They were all bundled up against the wind, whipped the snow around like nobody's business. The Midwest really is damn cold, but I suppose that is its thing.
All dining is communal on Amtrak's long-haul trips; the attendants seat four people per table. However, I had a table to myself for both meals on the Lake Shore Limited as there weren't many people on the train. I would say that 6 of the 10 tables were taken by one or two people per table. At the table across from me was an old hippie wearing a shirt that read, "Resistance is Futile." He ordered a well-done steak and a glass of water. The couple behind me was discussing why there are FedEx boxes in Post Offices now, so I didn't miss out on much there. I had a brief chat with my waiter about the relative merits of ballpoint versus roller-ball pens; he had very strong opinions on the subject.
Here is a picture of the dining car layout in Murder on the Orient Express. Alas, I didn't see Lauren Bacall. I should have put my dinner reservation under "Hildegarde."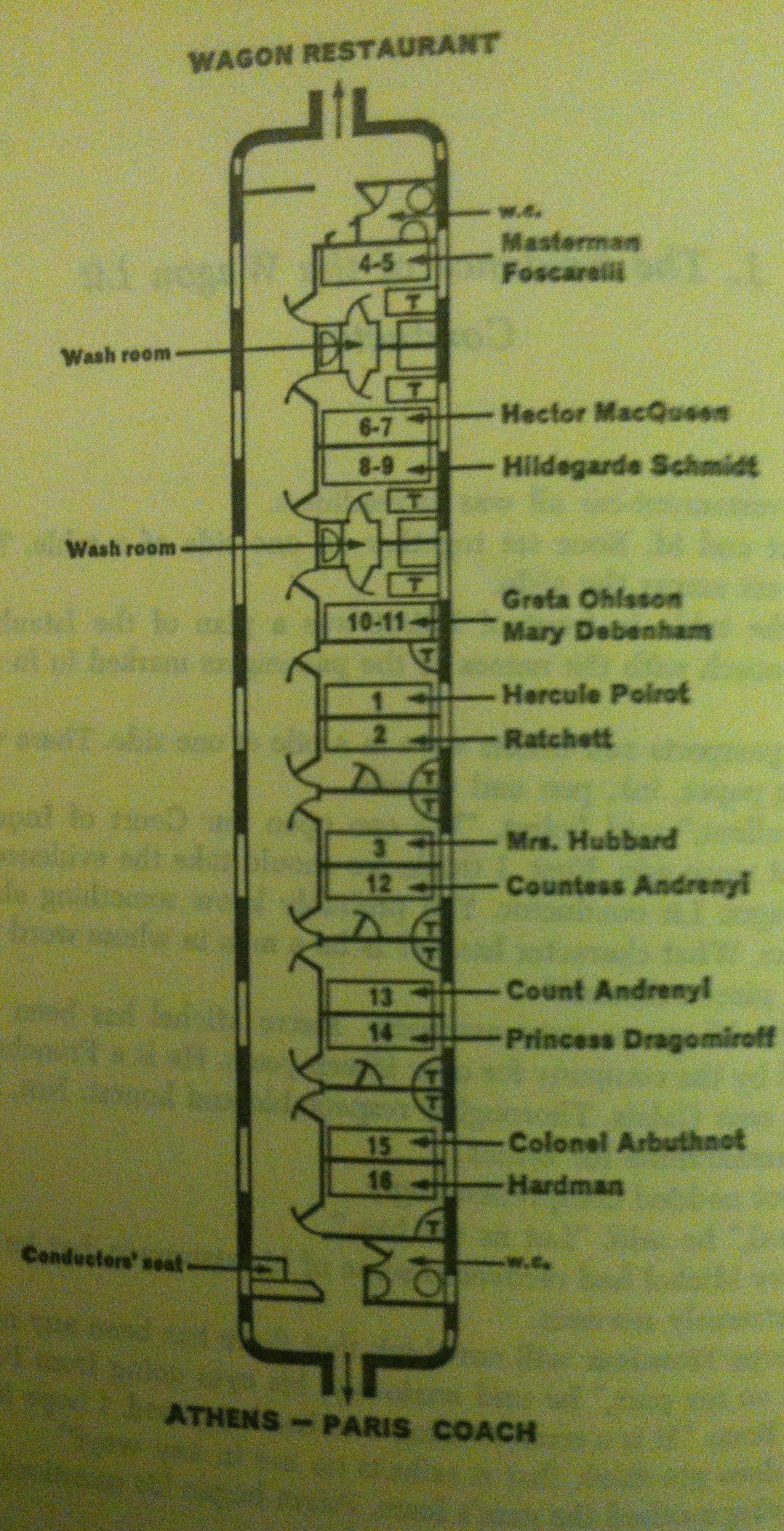 The California Zephyr:
The dining car of the California Zephyr was decorated in blue rather than the sage green of the Lake Shore Limited. The tables were set with white paper tablecloths and silverware wrapped in napkins – not bad at all. Each table had a little vase of flowers. (This was the case on the Lake Shore Limited, too.)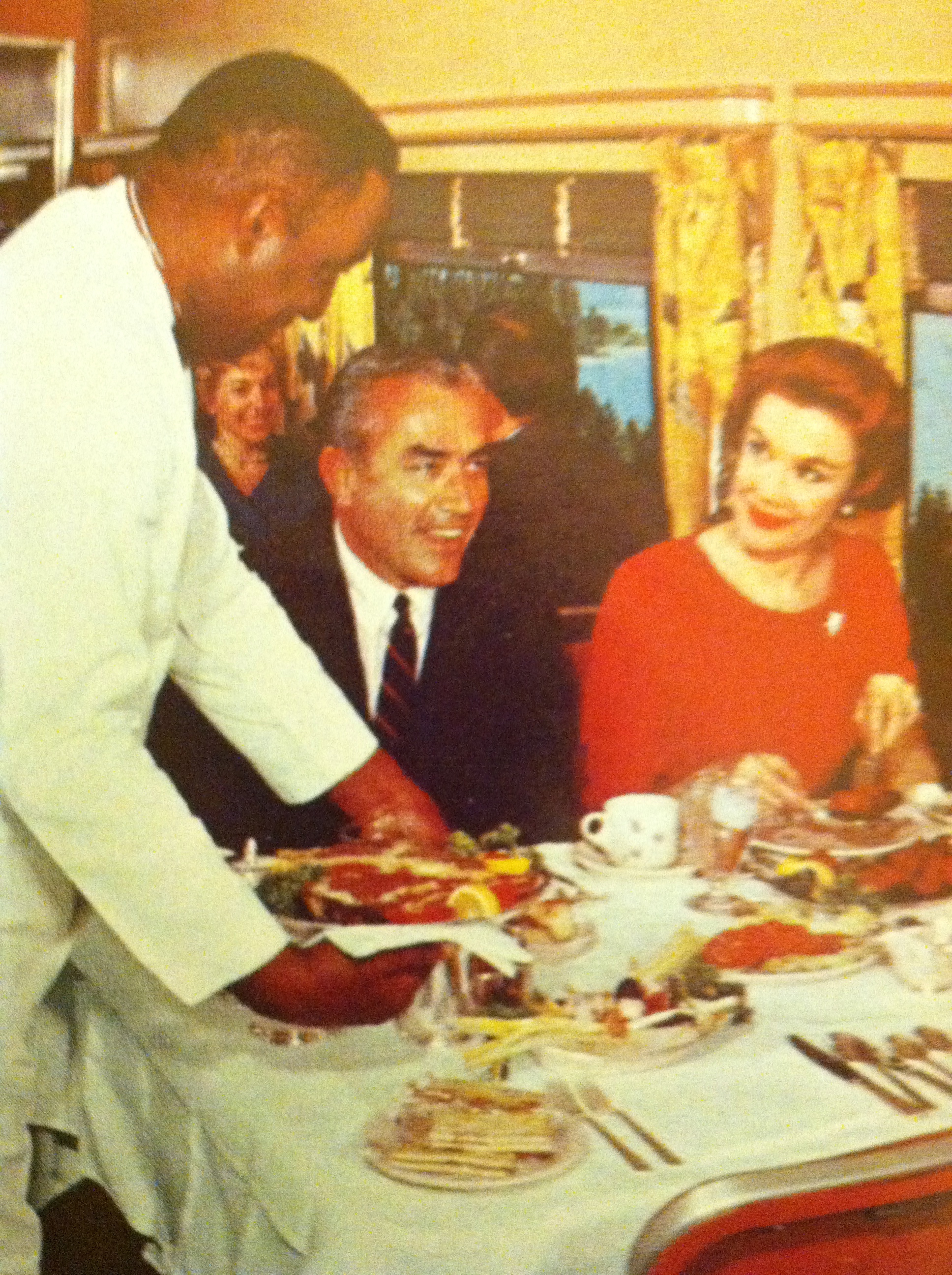 A picture from my 1950s brochure shows tables set with "sparkling silverware," "snowy white linen," china dishes, and a silver tea service.
I had dinner with a nice 22-year-old ex-military guy who was going out to Denver to interview for a job in car design. I ordered the chicken again (hey, sometimes a lady just likes a chicken), and my dining companion had the salmon, which looked pretty good. We were joined by a head-hunter tech guy from Chicago who ordered the steak (also looked fine). And then I went back to my roomette and folded my chairs down into a bed and read and sipped bourbon, which was really an ideal way to spend the rest of the evening. Once it gets dark outside, you feel that you're in a kind of pod that is passing through unmarked space.
I woke at 6 a.m. to a nice view of Nebraska, which pretty much looks like the cover of the Bruce Springsteen album. (I really need to get some other cultural references for America other than the Boss.) It was very flat and very covered with snow. The sun was coming up, and there was still a sliver of a white moon in the sky, and we rushed past farms and telephone poles. I packed up my things so I would be ready to get off at Denver in a little over an hour, and then I headed to the dining car for my last breakfast. The attendant seated me with a very nice retired gentleman who had already traveled from Seattle to New York and was on his way from New York to Emeryville: a one-week trip. I had coffee and juice and a very good vegetable and cheese omelette, and he told me about his journey. Apparently, the trip East on the Empire Builder, which goes through the Cascades and Rockies, is stunning. Something to think about for the future.
So Amtrak may not be poised to win any culinary awards, but I enjoyed my meals, and I wasn't hungry, and that's really saying something for me.