New York's Penn Station: I arrived at Penn Station about an hour before the Lake Shore Limited was scheduled to depart. This was too early, but I tend to be pathologically early to pretty much everything in life. I installed myself in the Amtrak waiting room, which was the temperature of a tropical beach and marginally less pretty. Then, about fifteen minutes before I thought my track would be announced, I went out and stood under the big announcement board.
Usually, I dash through Penn Station very quickly and try not to look around. This approach is somewhat like passing the scene of a violent crime or a guy on the subway who is fumbling with the buckle on his pants. If you look, you know you're going to regret it. But this time, I thought I would try to really absorb the whole Penn Station thing. This was an idiotic notion. The sum total of what I absorbed is as follows:
People like to yell at one another.
People really like to yell at their kids.
People like to run one another over with their rolling suitcases.
I've walked through this station for seventeen years, and it's always a study in human misery. The place is the color of sad putty and fluorescent lights – if putty can be sad, and I think it can be. My vintage-style photographs are an attempt to see if one can make Penn Station look better by imposing the nostalgic aesthetic of a silly photo filter. The answer is no. It still looks terrible.
But I was not long for this delightful place. My track was announced, and I made my way across the station in the midst of a not-totally-stampeding crowd. The woman who looked at my ticket at the track smiled and told me to take a left at the bottom of the escalator and to tell one of the porters that I had a sleeper. I walked down the platform a few cars, and as I passed along the train, I could see a woman in the dining car prepping about 25 small bowls of salad.
I was greeted on the platform by Jose, who turned out to be my super-wonderful attendant. He took me to my sleeper cabin and showed me where everything was and how all the buttons on the walls worked. And then he left me to settle in. Moments later, another man came by to offer me coffee and to take my dinner reservation. I selected 7:00 p.m. for dinner, right when we would be leaving Albany. And soon I was on my way up the Hudson in the late afternoon light.
I've included a postcard of the old Penn Station here. I've had this postcard on my fridge for some time, and it may have been the real inspiration for my trip, which would be appropriate as the place no longer exists. The postcard looks more like the present-day Grand Central Station, which just celebrated its 100th anniversary. I stopped by Grand Central with some friends a few days before my trip, and we listened to the jazz band and watched people dance and then had a drink and looked out over the concourse. Grand Central just makes you happy to be alive; I love to look up at the green astrological ceiling and tall iron windows. What do I love about Penn Station? – I do love it when you can get the hell out of there. The place would have made Dante shudder.
Chicago's Union Station: I arrived at Union Station in Chicago at 10:30 a.m. on February 4. We were about 45 minutes late, but it didn't matter as the California Zephyr didn't leave until 2:00 p.m. that afternoon. Until then, I thought I would explore the station and get a bite to eat. In order to navigate the snowy and slushy streets around Union Station, I changed into jeans and boots. It was just not practical to sprain my ankle in an attempt to be period-appropriate. I walked across the street to the old Union Station as I had come into the newer Amtrak terminal. This vintage postcard shows the station in ye olde times. There's something about a vintage postcard – the colors are both saturated and hazy, and they suggest a world infused with beauty.
The Fred Harvey restaurant at Union Station, from which I have this vintage matchbook,
was the first chain of eating establishments in the U.S. The Fred Harvey dining facilities single-handedly upped the quality of food that train travelers could enjoy, and the waitresses (or "Harvey Girls") became legendary. These Harvey Girls had pretty incredible uniforms: little blue dresses with big white bows on the front of white aprons. The Amtrak station in Chicago has no such eating establishment today. You pretty much have to settle for chains like Dunkin' Donuts. Sigh.
That said, I found a nearby diner that was entirely in step with my nostalgic enterprise. Lou Mitchell's specializes in double-yoked eggs, so I got two of those babies over-medium with a steak and fries. You can't pass through Chicago and not have steak and eggs, right? A friend came to meet me, and he had a generously-portioned chicken pot pie, which was also downright scrumptious. The place was very retro – not nouveau retro, but really unchanged by time. I particularly liked the counter, which was a nice, worn formica. By the end of lunch, I felt very Midwestern, and then it was time to leave again.
I headed back to the station and sat in the Amtrak lounge for about a half an hour. It's a pleasant enough place with a lot of chairs and sofas and a fake fire, and you're only allowed in if you've booked a sleeper. An attendant walked all of the California Zephyr passengers to the train platform, and we shuffled into the double-decker Superliner cars. Although I knew my roomette would be smaller than the bedroom I had on the Lakeshore Limited, I figured that I would spend much of the afternoon and evening in the Vista Dome observation car. And then we were off, and Chicago gave way to open fields of snow and farms and silos.
Denver Train Station: Denver's Union Station is under renovation for the next couple of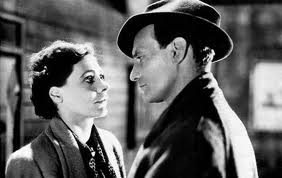 years, so we went into a temporary Amtrak station at about 7:30 a.m. on February 5. I popped my head into the station – it was nothing inspirational. As I looked around at the little place to grab a coffee, I thought: I wish there were an old-school refreshment room. In Brief Encounter, the encounters between the illicit lovers Alec and Laura take place in the refreshment room of the Milford Junction train station, which despite being deemed "the most ordinary place in the world" by Laura, is actually a charged space in which everyone – including the bossy lady who runs the place – is embroiled in flirtations and passions. After meeting the charming doctor Alec, Laura imagines a glorious romantic future with him. This alternate reality is superimposed on the train window and against the train tracks that mandate her return to her bourgeois home and marriage, a return that she eventually makes for good. In this film, the train does not offer escape: the lovers take the train home to their respective spouses in the evenings. And eventually, the train takes Alec to Africa, which, as we know, is the most effective way to end a love affair. (Think: "You consume me! I can't see you anymore! I have to go to Africa!") As I walked around my final train station, I could not imagine any such intrigues taking place in this space.